Online Webinar Series
The Third House: Goddess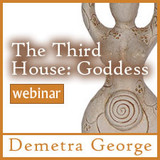 Demetra George presents the third of a 12-part webinar series on the twelve astrological houses. Each program focuses in depth on one house, applying traditional astrological theory viewed through the lens of modern astrology. Demetra shares personal thoughts and insights gained over years of study. Each program will include live Q&A with Demetra.
November 16, 2013, 9am PT 
Explore the many dimensions of the third house. Along with siblings and short journeys, ancient astrologers placed divination and religious rites in the third house under the auspices of the Goddess.