Online Webinar Series
The 11th House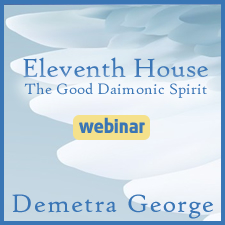 Demetra George presents the 11th of a 12-part webinar series on the twelve astrological houses. Each program focuses in depth on one house, applying traditional astrological theory viewed through the lens of modern astrology. Demetra shares personal thoughts and insights gained over years of study. Each program includes live Q&A with Demetra.
Saturday, May 9, 2015 at 9am PT (pacific time)
This webinar will incorporate the Hellenistic and Medieval techniques for describing our friends, their fidelity or falseness. And it will delve into the modern analysis of our capacity to make and maintain friendships, get along with others, and participate in shared group endeavors based upon common ideals.
No need to attend live. All registered students get instant access to the replay and links to download within 48 hours.
$25 (if registered by May 8; $30 thereafter) Details and Registration