Online Webinar Series
The 7th House: Western Setting Angle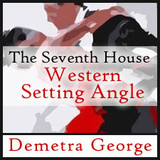 Demetra George presents the 7th of a 12-part webinar series on the twelve astrological houses. Each program focuses in depth on one house, applying traditional astrological theory viewed through the lens of modern astrology. Demetra shares personal thoughts and insights gained over years of study. Each program includes live Q&A with Demetra.
June 21, 2014, 9am PT (pacific time)
"Constancy of the heart" and marriage were emphasized throughout the astrological tradition as the primary meaning of the seventh house. But somewhere along the way opponents and open enemies, and then even the shadow and projection were added, resulting in the complex web of interaction with both the inner and outer 'Other' in our lives.